SHORTLIST: EMERGING INTERIOR PRACTICE OF THE YEAR
M.A shortlisted for World Interior News' Emerging Interior Practice of the Year Award 2015​
PAMUKKALE UNIVERSITY SCHOOL OF ARCHITECTURE + DESIGN
In collaboration with KOTUstudio and Sina Ozbudun, M.A. is awarded honorable mention in the competition to design Pamukkale University School of Architecture and Design Building ​
Quasi Thing is featured in SuckerpunchDaily​
Z53 Social Housing is published in VPOR/2 Spanish Magazine ​
BETONART ARCHITECTURE MAGAZINE
Isaac Michan writes in Betonart, Turkish Architecture Magazine; on Juan O'Gorman's National Library​
CORNELL ARCHITECTURE MAGAZINE: VOL. 7
Quasi Thing Published at Association Volume 7 Cornell Architecture Magazine​
Z53 Social Housing, awarded at Architizer 2015 on Low Cost Hosing, Public Voting Category​
Apartment P1 stairs featured in Archdaily; "For the Love of Stairs"​
SHORTLIST: CANAKKALE ANTENNA
M.A. in collaboration with FR-EE/Fernando Romero Enterprise and KOTUstudio is shortlisted in Canakkale Antenna Tower Competition​
M.A. awarded 3rd Honorable Mention in Canakkale Antenna Tower International Competition
Living Playground No. 12 will be exhibit from June 18 to July 4 at the London Festival of Architecture 2010, in "A New Landmark for Aldgate" Exhibition​
SHORTLIST: A NEW LANDMARK FOR ALDGATE
Living Playground No.12 has been shortlisted on "A New Landmark for Aldgate" Competition for a London Olympics 2012 Landmark ​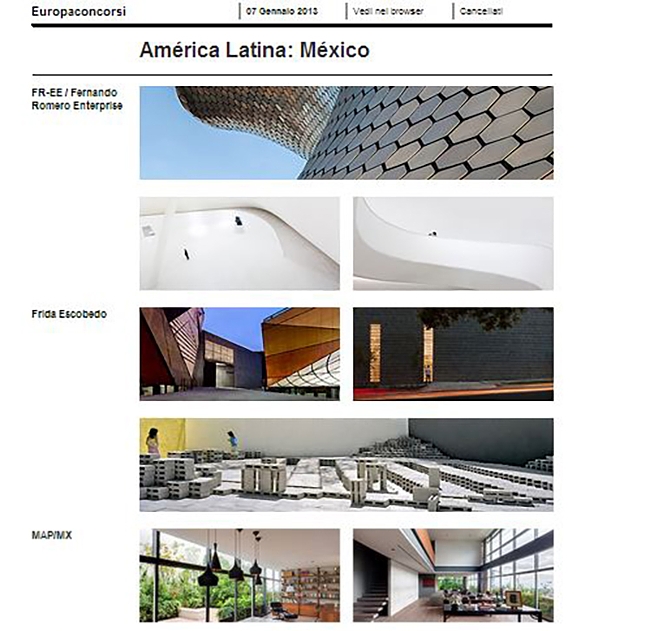 Mat and Objects is featured in SuckerpunchDaily​
LATIN AMERICAN NEWSLETTER
Apartment P1 is featured in Europaconcorsi "Latin America Newsletter"​
M.A proposal for a temporary pavilion finalist at Mextrópoli No. 19​
Mat and objects drawings exhibit at Estranhando o Real – Realizando o Estranho at São Paulo
(August - September 2017)​