IKZA

In collaboration with KOTUstudio and Sina Ozbudun



The Izmir Development Agency building is not just an office building: it is also a center for entrepreneurship. The nature of its function reflects outward as a more active and innovative environment. The socio-cultural relationships are in the core of the design vision with an intention to create a sense of synergy on the public ground. This kind of social unity is far from a romanticized dream.

Building-Urban relationship: The building meets the ground with a minimal semi-transparent aluminum facade, creating an interface with the street. The front facade is pulled back to expand the public ground that meets the South road, creating a welcoming entrance and a meeting ground. The aluminum cladding envelope reveals the core of the building—the atrium—by peeling itself out from the glass surface. By revealing the structure and interior parts, this surface interchanges gazes between the public functions of the agency and the city.

Atrium: IZKA building reevaluates the concept of the public, in terms of what's shared and common. The atrium homes the public functions by coiling them around vertically from the auditorium on the basement to the top floor. The ramp weaves the North and South parts of the building, creating a continuous working space. The flexible open plan space acts as an incubator for entrepreneurs and all other users, where people share both the place and their creative ideas.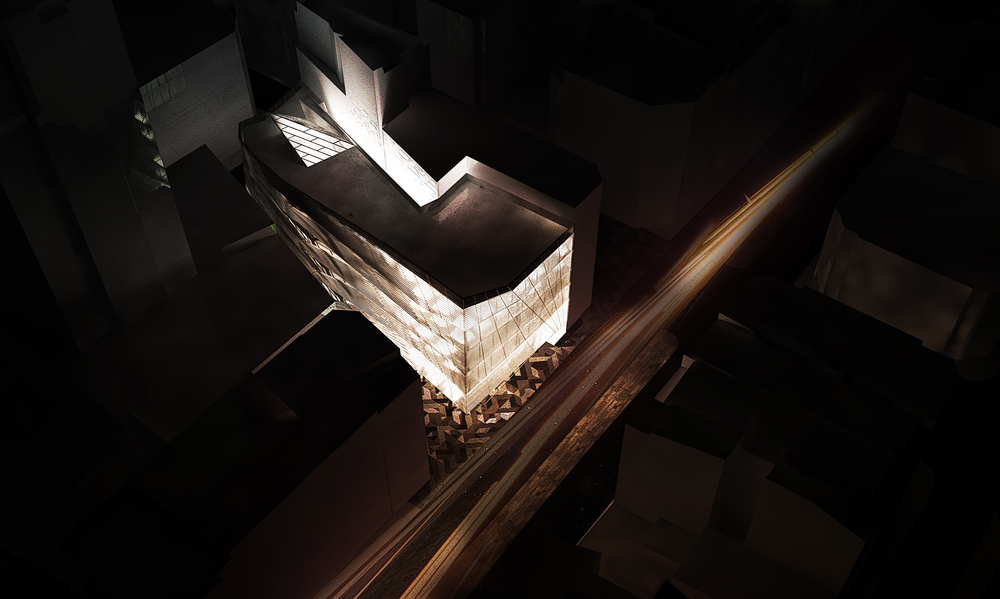 Location: Izmir, Turkey
Type: Competition
Structure: Concrete, steel
Team: Isaac Michan Daniel, Erdem Tüzün, Sina Özbudun, Yelta Köm, Hakan Kaçmaz, Victor Lima Ehecatl Cabrera, Yasemin Tarhan, Oza Tüzün
Status: Concept
Year: 2013