LP NO.12
Our proposal for a new landmark aims to break the barriers between the spectator and a standard landmark, as this structure completes itself with the user's interaction. As the landmark is made to commemorate the London 2012 Olympics, rather than conceive it as a symbolic sculpture with a representation of what the Olympics stands for we choose to leave its meaning open, commemorating them through the use of public space and its interaction with people; symbolizing them through a democratic representation of space, allowing people to give it their own understanding and meaning. We believe that a contemporary monument of this nature should be about celebrating life through a public space.

The landmark is conceived as a single surface wrapped around in a voronoi pattern, emerging on an artificial topography. This unique design responds to certain contextual conditions and will evolve naturally as the visitor begins to interact with the structure. The visitor's experience will set the final touch to the design process. By mapping the pedestrian flow pattern we realized that there is an empty space in the center of the site that can be used to our advantage. Our design concept started from that observation, and by manipulating the surface we created shades, seating and relaxing spaces, never forgetting about green areas.

The surface can also be conceived as a hybrid urban piece of furniture, gradually emerging from one program to other, forming canopies, platforms, benches and everything that the visitor will create and cannot be repeated. In other words, it is a living playground that can be adapted and transformed to any context. Our landmark will invite people to a mutual interaction and will awake the creative motivation in every visitor. The proposed landmark is a wooden structure with steel connectors and concrete foundations, and the plaza is made with local stone. It is made with a low cost, it is easy to build, unbuild, and maintain.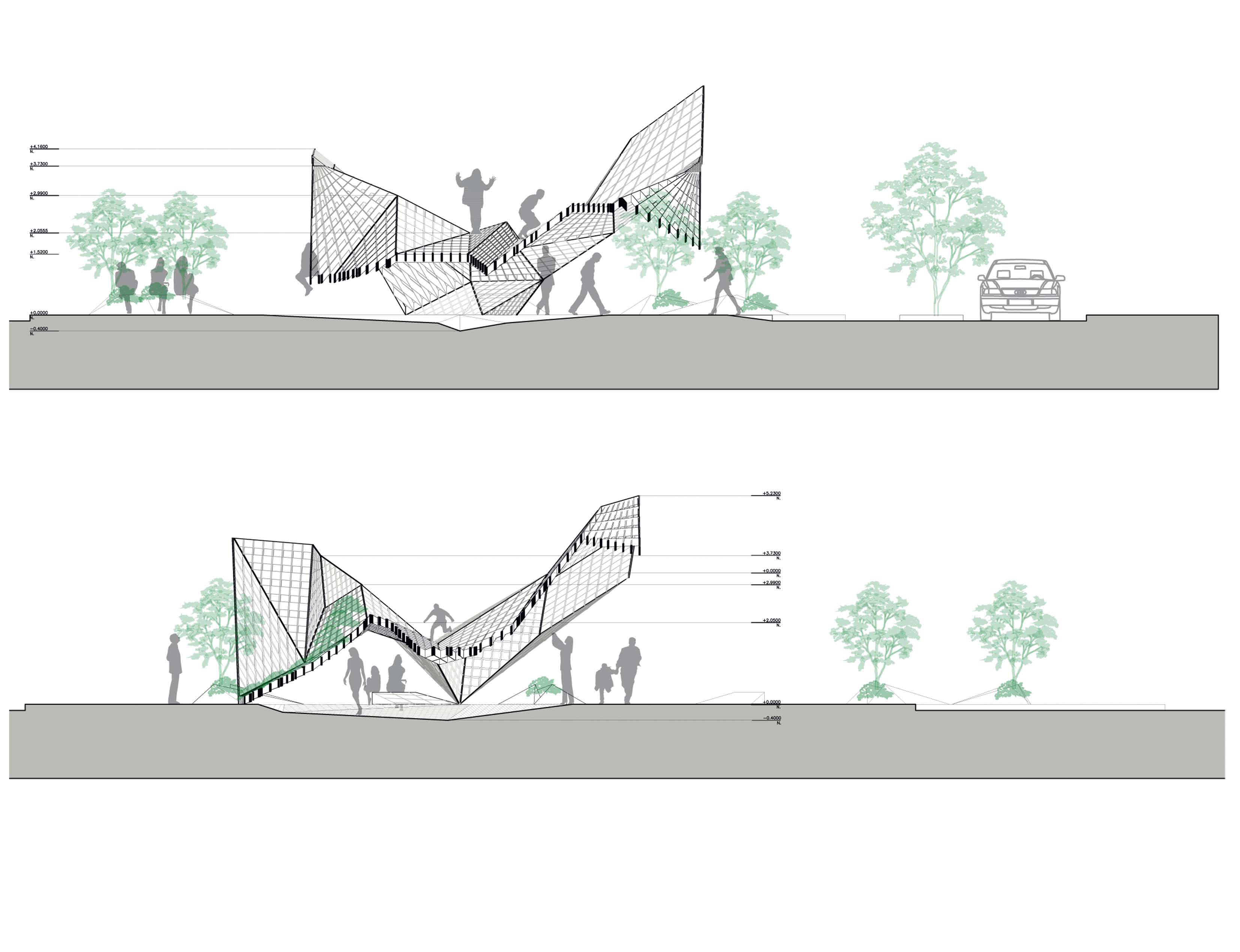 Location: London, UK
Structure: Wood and steel
Type: Open International Competition, A New Landmark for Aldgate
Team: Isaac Michan Daniel, Eduardo Lorenzana
Status: Concept, Exhibited at the London Festival of Architecture
Size: 100 sqm
Year: 2010